UNHOLY ADVENTURE 3 Doctor Franks Chapter 9 Answer Or Solution
Unholy Adventure 3 Game Chapter 9 [Doctor Franks] Solution Or Walkthrough
Unholy Adventure 3 Solutions Doctor Franks and Hint are available here.
Unholy Adventure 3 Game PlayStore Link is: https://play.google.com/store/apps/details?id=games.dali.adventure.neighborhood.unholy.three
About Unholy Adventure 3 Game: Unholy Neighborhood is a point-and-click adventure game with hundreds of storyline puzzles. Each of our adventure point and click narrative story games are packed with mystery games and secret stories.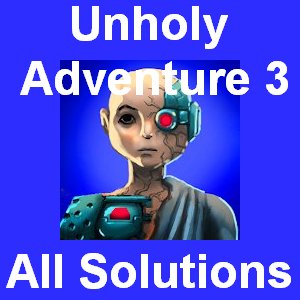 Unholy Adventure 3 Doctor Franks Solution:
Opinion About the Unholy Adventure 3 games:  I really enjoyed the conclusion of the game and the origin of the logo. There's a fantastical world that they seem to be able to do anything with, from high fantasy to cyborgs.
Thank you for visiting, More Levels of the Unholy Adventure 3 game can be found at: