Sand Balls Level 51 52 53 54 55 56 57 58 59 60 Walkthrough [Updated]
Sand Balls Game
Level 51 52 53 54 55 56 57 58 59 60 Solution Or Walkthrough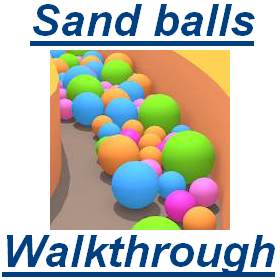 Sand Balls Solutions Level 51 52 53 54 55 56 57 58 59 60 and Hints are available on one page. If you want some answers them scroll down to the page.
Sand Balls Level 51 52 53 54 55 56 57 58 59 60 Walkthrough:
Sand Balls Level 51-60 solutions in a single video check below:
Sand Balls Game Playstore link is: https://play.google.com/store/apps/details?id=com.water.balls
About Sand Balls Game: "Make a path for your balls by moving your finger. Avoid and crash obstacles. Get as many balls to finish as you can. "
Opinion About the Sand Balls game: Overall, it's a fun game. I think it needs an update though because when the bombs go off, the balls morph into the sand and u can't get them all. Also, when breaking through the pink bars, the should disappear or something because it gets in the way of the car and you lose points. It's also annoying that not all of the balls fit into the vehicle.
Solution Sand Balls all levels in one page :
Thank you for visiting, More levels of Sand Balls Golf can be found at: