Faraway Tropic Escape Level 18 Answer or Walkthrough
Faraway 5 Level 18 Walkthrough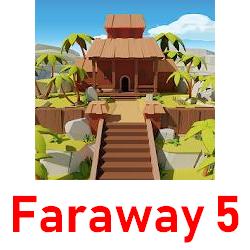 Faraway 5 Tropic Escape Puzzle Game Level 18 Solutions and Hints are available on one page.
For downloading this game, Playstore link is: https://play.google.com/store/apps/details?id=com.snapbreak.faraway5
Faraway 5 game has a lot of levels with more difficulties and challenges but if you need any help with any level then you are on the right page.
About this game: " Set off on a brand new adventure in Faraway: Tropic Escape, exploding with intricate and challenging puzzles set in a tropical idyll, or so it would seem. This is a new room escape experience packed with difficult puzzles, amazing scenery, and a great story. Enjoy the tropical installment to one of the all-time best escape games with over a million players."
Thank you for visiting, Bookmark this page for more help in upcoming levels
Faraway Tropic Escape Level 18 Video solution:
For all the answers of faraway 5 click below:
Faraway Tropic Escape [Faraway 5] All Level Answers Or Walkthrough
Thank you for visiting, If any of the answers are the wrong comment on this post.