Agent A Solutions All Chapters Walkthrough
Agent A Walkthrough All Chapters Solutions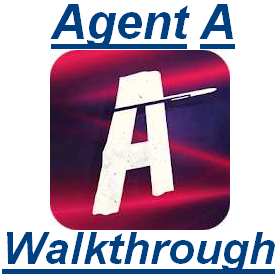 Agent A Solutions Game All Chapters and Hints are available on one page. If you want some answers them scroll down to the page.
Agent A Game Playstore link is: https://play.google.com/store/apps/details?id=co.yakand.agentaapuzzleindisguise
About Agent A Game: "Selected as a Google Play Android Excellence Game of 2018.
Agent A, your new mission is in from headquarters. An enemy spy known as Ruby La Rouge has been targeting our secret agents. Your mission is to find and capture her. "
Agent A Walkthrough All Chapters:
Opinion About the Agent A game: The Game is designed quite beautifully but my biggest complaint would be that it's a battery hogger. The whole idea of these types of games is that they are time killers. But if you play this game for long it'll dramatically drain your battery. I'm not sure if it's specific to Pixel 2XL or all Android phones. This issue needs to be fixed. Even PUBG doesn't drain as much battery.
Thank you for visiting.