3D Escape Room Detective Story Walkthrough All Levels
3D Escape Room Detective Story Game Walkthrough and Cheats
3D Escape Room Detective Story Game Solutions All Levels and Hints are available on one page. If you want some answers then scroll down to the page.
3D Escape Room Detective Story Game iOS link
About 3D Escape Room Detective Story Game: "In the dimly lit streets of 1930s London, a renowned detective stumbles upon a succession of baffling cases. Your mission: unlock intricate puzzles, conquer elaborate mechanisms, and unveil the concealed mysteries concealed within the city's shadows. The game boasts a splendid art design, skillfully capturing the retro charm of the Victorian era. Each location offers a distinct ambiance, from a secretive hotel harboring a spy's enigmatic secrets to the opulent luxury of the Orient Express, and the pastoral serenity of a European countryside hut reminiscent of a bygone era. Impeccably crafted 3D models, paired with immersive soundscapes, transport you into a hyper-realistic world, ensuring you'll be fully absorbed in the experience, making it feel as if you've truly stepped back in time."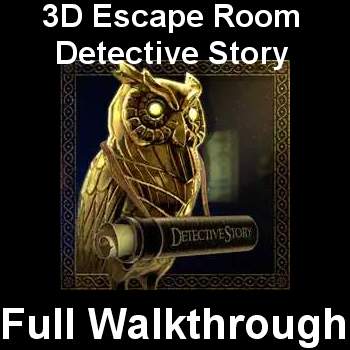 3D Escape Room Detective Story Answers of All Levels:
Click on each level for a detailed video solution.
Opinion About the 3D Escape Room Detective Story games: "I absolutely love this puzzle game! The gameplay is incredibly engaging, with a wide variety of challenging puzzles that keep me coming back for more. The sense of accomplishment I feel when solving each level is unmatched. It's a fantastic brain workout!"
Thank you for visiting.