30 DOORS PUZZLE Walkthrough All Levels
30 DOORS PUZZLE Game Walkthrough and Cheats
30 DOORS PUZZLE Game Solutions All Levels and Hints are available on one page. If you want some answers then scroll down to the page.
30 DOORS PUZZLE Game PlayStore Link.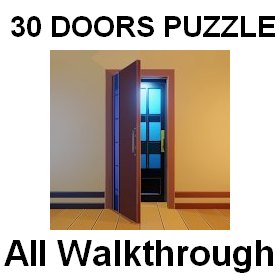 30 DOORS PUZZLE Answers of All Levels:
Click on each level for a detailed and video solution.
About 30 DOORS PUZZLE Game: "Each door you see is closed, they can take you somewhere, it might be where you should or shouldn't, or it might be where you want or don't want to. If it's still closed, you probably won't be able to know exactly where it is led to"
Opinion About the 30 DOORS PUZZLE games: This is exactly the type of game I've been searching for since I beat all the Room games twice.
Thank you for visiting.